Pinterest
Wedding season is in full-swing, and outdoor weddings are a favorite during the spring and early summer months. If you're witnessing some outdoor nuptials, make sure you're prepared with these essentials:
1.
Bug spray.
It sounds weird, and nobody likes the smell of bug spray, but you'll be thanking me when you're not getting eaten alive by mosquitos or bothered by black flies. Skip your perfume (which might help attract bugs, rather than repel them) and instead choose an herbal bug repellent. I like the
California Baby Natural Bug Blend
, but it might also be convenient to stash a few
Off! wipes
in your clutch.
2. Lipstick. Trade in sticky gloss for lipstick (bonus points if it has SPF). You never know what kind of weather the great outdoors will hand you, but if it's windy, you don't want your hair getting stuck to your mouth. Plus, sticky lipgloss is a magnet for bugs, pollen, and other things floating in the air. Yuck! I like Bobbi Brown's lip color in Rose Berry- it's beautiful, moisturizing and much more kissable than gloss.
3. Wedges. I attended a wedding this past weekend, and it made me so sad to see a fellow guest's beautiful Jimmy Choos sink into the mud. When you'll be walking around in grass or dirt, swap your stilettos for wedges. Here are some of my favorites: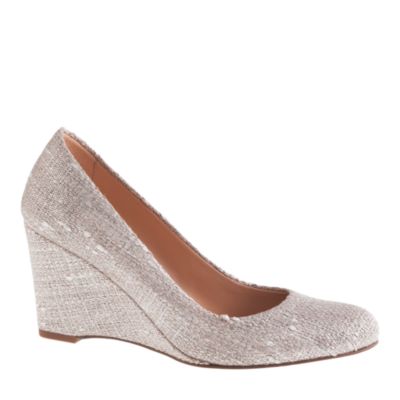 Martina Shimmer Linen Wedge, J.Crew
With these essentials, and maybe a light wrap in case it gets chilly when the sun sets, you'll be distraction-free and ready to celebrate your friend's special day.